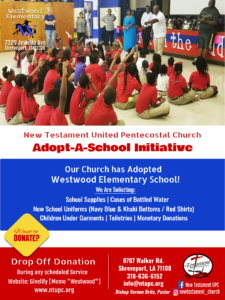 We Are Delighted That You Are Here!
Our church has adopted Westwood Elementary School for the 2020/2021 School Year. Join us in our effort to provide essentials for the students and staff of Westwood Elementary School.
Due to the Pandemic, the students are not able to use the water fountains; therefore, we are collecting cases of bottled water for the students.
In addition to the need for water, we are soliciting school supplies, new school uniforms (Navy Blue & Khaki Bottoms/Red Shirts), children's undergarments such as underwear, socks, t-shirts, as well as toiletries. Given the poverty stricken area of the school, your contribution will ensure that the students have the necessities that they need to maintain their health and cleanliness.
You may also make monetary contributions by clicking on the GIVELIFY link below. (Memo "Westwood")