Come and Worship with us in one of our Scheduled Services! 
We'd love to See You!
**COVID-19 Notice: For your safety, at each gathering, we will be abiding by the CDC requirements & guidelines that say we must maintain at least 6ft. social distancing in addition to wearing a mask or face covering at all times.  There is only 1 Entrance & 2 Exits in and out of the building.  Also, everyone is required to get a contactless temperature check upon entry.  We advise anyone who may feel sick or under the weather to remain at home a view the livestream. We thank you in advance for your cooperation. God Bless!
Due to the COVID-19, we are currently not having Sunday School; however, we have prayer a 9:30AM preceding our anointed worship experience starting at 10:00AM, followed by the dynamic preached word of God!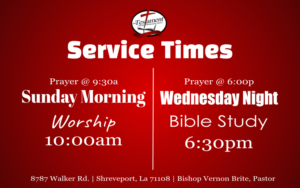 Come and visit us in our Mid-week service where there is in depth bible teaching and fundamentals
that'll last a life time! Come by, we look forward to seeing you!